"HIRAKU-PF", the Young Researchers' Portfolio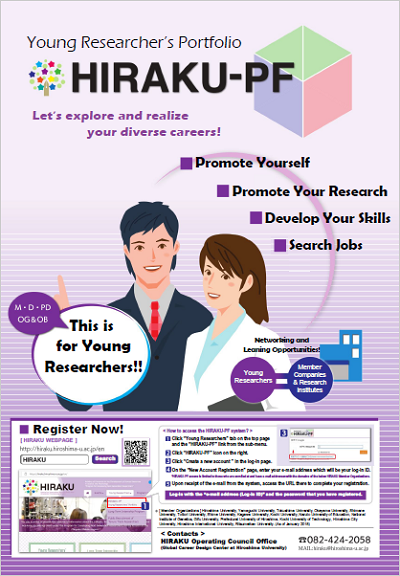 The Young Researchers' Portfolio or HIRAKU-PF was launched on March 25, 2016, as a core IT system to develop the consortium "Home for Innovative Researchers and Academic Knowledge Users (HIRAKU)".
It provides young doctorate/postdoc researchers with a tool to recognize their strengths and areas for improvement, whilst managing their skill development against short-term/long-term objectives. It will eventually help them to establish and realize diversified career paths.
It also presents them with the opportunities to showcase their research activities and a chance to interact with other researchers beyond their research areas or with private sectors outside academia. They can receive a variety of information on career development and skill enhancement, relevant to young researchers.
You can register yourselves to HIRAKU-PF through the below URL. Click the above image to check more details about the system. (pdf 1.13MB).
Users who have finished the doctorate course, please download the user guide from the below URL to update your account role, so that you can keep on leveraging the services in HIRAKU-PF.
(https://hiraku.hiroshima-u.ac.jp/wp/wp-content/uploads/2017/03/HIRAKU-PF.pdf)
Key Functions/Features:
How to access to HIRAKU-PF?
1. Click the "HIRAKU-PF" icon below.
2. Click "Create a new account from here" and enter your e-mail address.*
3. Click (or copy & paste) the URL attached to the e-mail received during step #2.
4. Complete your account registration with your password entry.
5. Log into HIRAKU-PF with your e-mail address and password.
*HIRAKU-PF access is limited to those who belong to and have an e-mail address with domains of the below HIRAKU Member Organizations:
If you belong to any other organizations than the above Member Organizations, please contact HIRAKU Operating Council Office.
New Ph.D. students at Hiroshima University will be automatically registered to the system. The log-in information should have been sent to your Hirodai e-mail address, followed by the tentative password information. Please check the e-mail notifications sent from info@hirakupf.hiroshima-u.ac.jp or no-reply@hiroshima-u.ac.jp.