The 13th HIRAKU Achievement Presentation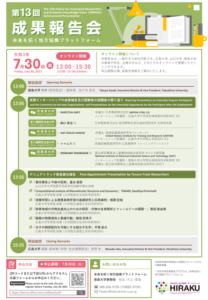 On Friday, July 30th, 2021, the 13th HIRAKU Achievement Presentation will be held as below.
It will be open to all members of the general public, university faculty members, university students, enterprise officials and employees, amongst others.
We look forward to seeing all sorts of people attend this event, from undergraduate, graduate and doctorate students, to their supervisors, doctoral researchers, young researchers interested in the tenure-track positions, and so forth.
(Please click on the image of the flyer to view a PDF file of it. (PDF,567KB))
【Date】July 30 (Fri) 13:00-15:00, 2021
【Participation Fee】Free
【Registration Method】Registration deadline: July 20 (Tue)
Please fill in the necessary information within this application form.
*We will send you the information to join the online meeting after the deadline above.
【Contact Details】
HIRAKU Secretariat of Tokushima University,
Center for Research Administration & Collaboration, Tokushima University
Tel: +81-88-656-9759 E-mail: hiraku■tokushima-u.ac.jp (Please replace ■ with @.)
【Program】
13:00 Opening Remarks
SASAKI Takuya, Executive Director for Research Affairs, Vice President, Tokushima University
13:05
◆ Reporting Presentations by Internship Program Participants and the Comments by the Host Organizations, and Presentations on the Internship Experiences by the Participant after the Employment
【Host organization: Nippon Steel Corporation】
・Former Intern: SHRESTHA AMIT (Degree when he participated in the Internship: D2 at the Graduate School of Advanced Sciences of Matter, Hiroshima University)
・Person in charge of the Internship at the host organization: MORIGUCHI, Koji / Senior Researcher, R&D Laboratories, Nippon Steel Corporation
【Host organization: United Nations Institute for Training and Research (UNITAR)】
・Former Intern: SAFI WALID AHMAD (Degree when he participated in the Internship: D3 at the Graduate School of Engineering, Hiroshima University)
・Person in charge of the Internship at the host organization: SHAMSUL HADI SHAMS / Training Associate, UNITAR Office in Hiroshima
【Host organization: National Institute of Advanced Industrial Science and Technology (AIST)】
・Former Intern: SIDDHANT DHONGADE / AIST Postdoctoral Researcher (Degree when he participated in the Internship: D2 at the Graduate School of Advanced Technology and Science, Tokushima University)
13:55
◆ Post-Appointment Presentations by Tenure-Track Researchers
・TOMINAGA Naoomi / Assistant Professor, Graduate School of Medicine, Faculty of Health Sciences, Yamaguchi University
・TIWARI, Sandhya Premnath / Assistant Professor, Graduate School of Integrated Sciences for Life, Academy of Hiroshima University
・AIZAWA, Hiroaki / Assistant Professor, Graduate School of Advanced Science and Engineering, Academy of Hiroshima University
・KIKUTA, Mayumi / Assistant Professor, Graduate School of Integrated Sciences for Life, Academy of Hiroshima University
・HIDA, Akiko / Assistant Professor, Graduate School of Integrated Sciences for Life, Academy of Hiroshima University
・HIRAO, Takehiro / Assistant Professor, Graduate School of Advanced Science and Engineering, Academy of Hiroshima University
15:25 Closing Remarks
 ABE, Manabu (Executive Vice President (Research and Academia-Government-Community Collaboration))
【Host Organization】
"Home for Innovative Researchers and Academic Knowledge Users (HIRAKU)" under the Building of Consortia for the Development of Human Resources and Science and Technology