The 10th HIRAKU Achievement Presentation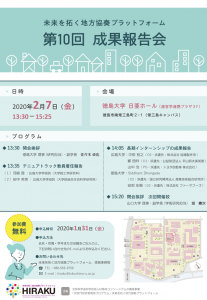 On Friday, February 7, 2020, the 10th HIRAKU Achievement Presentation will be held at Nichia Hall, Josanjima Campus, Tokushima University.
>> Event Website at Tokushima University (available in Japanese only)
It will be open for all, from undergraduate, graduate, doctorate students to their supervisors, doctoral researchers, young researchers interested in the tenure-track positions, and so forth.
【Date】Friday, February 7, 2020 13:30 – 15:25
【Venue】Nichia Hall, Josanjima Campus, Tokushima University
【Registration】 Please send an e-mail to the below contact under the "Inquiries," with your name, affiliation, level and year of study or job title (e.g. Taro TANAKA, Graduate School of Medical Sciences, D2).
Program:
13:30 Opening Remarks
SASAKI Takuya, Executive Director & Vice President at Tokushima University
13:35 Post-Appointment Presentation by Tenure-Track Researchers
(1) KAWASAKI Riku, Assistant Professor, Graduate School of Engineering, Hiroshima University
(2) TANAKA Wakana, Assistant Professor, Graduate School of Integrated Sciences for Life
14:05 Reporting Presentation by HIAKU Long-Term Internship Program Participants
(1) NAKATA Hiroyuki, D2, Graduate School of Science, Hiroshima University
Host Organization: HORIBA, Ltd.
(2) ZHENG Xiyin, D1, Graduate School of Letters, Hiroshima University
Host Organization: Hirayama Ikuo Museum of Art
(3) YAMANAKA Osamu, Special Postdoctoral Researcher, Global Career Design Center, Hiroshima University
Host Organization: Toyota Motor Corporation
(4) DHONGADE Anandrao Siddhant, D2, Graduate School of Advanced Technology and Science, Tokushima University
Host Organization: National Institute of Advanced Industrial Science and Technology (AIST)
(5) ABE Shogo, D1, Graduate School of Advanced Technology and Science, Tokushima University
Host Organization: PHARMA FOODS INTERNATIONAL CO., LTD.
15:20 Closing Remarks
 HORI Kenji, Trustee & Vice President for Academic Research, Yamaguchi University
【Inquiries】
URA, Center for Research Administration & Collaboration, Tokushima University
TEL: 088-656-9759 / E-mail: hiraku■tokushima-u.ac.jp (Replace ■ by @)